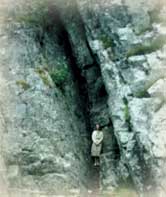 Rock of Ages (cleft for me)
This Day in Christian History: Hymn Writer Augustus Toplady.
Augustus Montague Toplady, clergyman and writer, was born November 4, 1740, at Farnham, about 20 miles southwest of Windsor, England. He studied at the Westminster School for a while, but was sent to Ireland in 1755, the same year as his conversion.
At first Toplady was taken with John Wesley's teachings, but by 1758, he had become an extreme Calvinist and had harsh words for Methodist theology. Passionate for the Lord, he prayed, "God keep me from being a mere scholar."
Toplady received his degrees of Bachelor of Arts and Master of Arts from Trinity College. Ordained deacon in 1762, he was licensed to the curacy of Blagdon the same year. Two years later he was ordained as a priest, and until 1766 served as curate at Farleigh, Hungerford. For the next two years he held the benefice of Harpford with Venn-Ottery, and for two years after that, of Broad Hembury. During 1775 he took a leave to minister to the French Calvinist Reformed Church in Orange Street, London.
His first published work was Poems on Sacred Subjects, Dublin, 1759. His major works were the Historic Proof of the Doctrinal Calvinism of the Church of England (1774) and The Church of England Vindicated from the Charge of Arminianism (1769.) He was prone to polemics and was cutting in his opposition to Wesley followers.
Toplady suffered from tuberculosis. As his death neared, he sensed God's presence. "O what a day of sunshine this has been to me! I have not words to express it. It is unutterable. O my friends, how good is God!" The day he died, he was calling, "Come, Lord Jesus, come quickly!" He told his friends that he could not live much longer for no mortal man could live after seeing the glories of God that he had seen. He was not quite thirty-eight when he died on this day, august 11, 1778, but his short life-span was enough to produce one of the most beloved of all hymns–Rock of Ages:
Rock of Ages cleft for me,
Let me hide myself in Thee;
Let the water and the blood
From Thy riven side which flowed
Be of sin the double cure;
Cleanse me from its guilt and power.
The idea is said to have come to him when he stepped into a cleft of rock to take shelter from a storm, but the evidence does not bear this out. The first appearance of that particular story was 70 years after his death. More likely the hymn came from his meditation on God as our rock, which was a frequent theme in his sermons.
Few if any today read the the sermons or other books Augustus Toplady wrote, but we still sing his hymn. It has remained a favorite. Sung in churches or at home, it speaks of Christ's mercy to all ages.
Bibliography:
Based on an earlier Christian History Institute story.
Cook, Paul E. G. Augustus Toplady; the saintly sinner. London: Evangelical Library, 1978.
Price, Carl F. One Hundred and One Hymn Stories. New York: Abingdon Press, 1951.
Wells, Amos R. A Treasure of Hymns; Brief biographies of 120 leading hymn- writers and Their best hymns. Boston: W. A. Wilde company, 1945.
Various encyclopedia and internet articles.
---
---